Scheduled Maintenance Overview
We are launching a rehab project to address numerous repairs, enhancements, and scheduled maintenance work required to ensure the value of our property continues to increase. The project is scheduled to launch this summer and will take approximately 3 months to complete.
Repairs and Enhancements
Essential rehab items vary from required maintenance to urgent repairs including:
Exterior building pressure washing
Repair of wood rot and replace with PVC
Repaint all previously painted or stained surfaces with original or updated colors
Repair chimney siding and corner boards
Gutter Repairs
A few examples of areas requiring repair: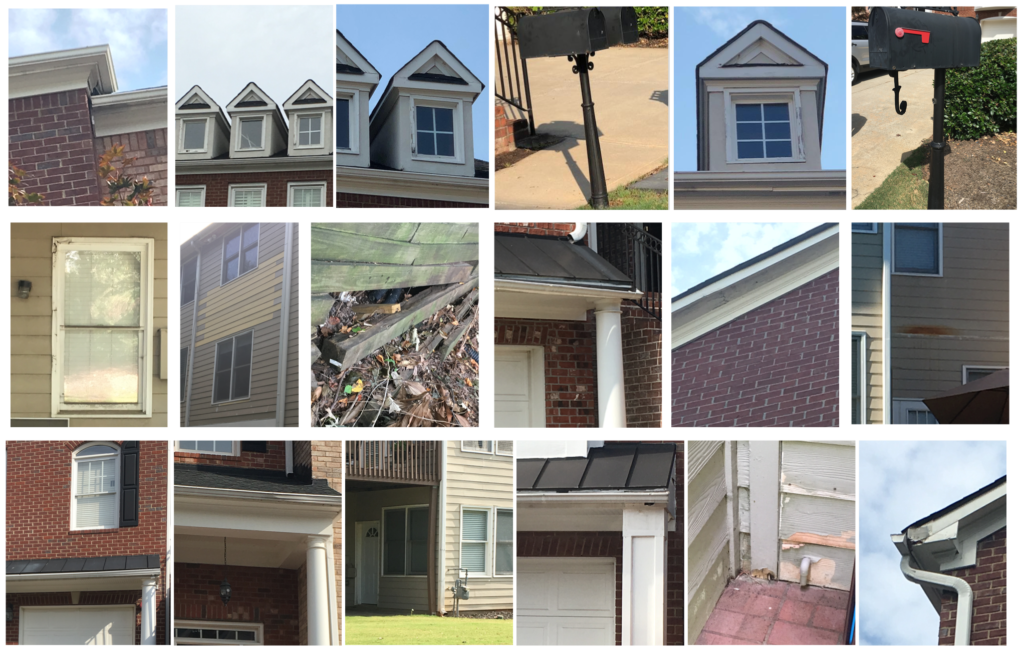 Chimney Rehab
Numerous corner boards on the chimneys have rotted. These will be replaced with PVC boards.
Cored Holes for Railing
There are numerous steel handrail posts with posts in cored holes where the holes are not properly filled or are not filled at all. These areas should be filled using anchoring cement and will be specially assessed the to homeowner.
Dutchman repair
A "Dutchman" repair is where the rotted wood is cut out and a block of wood is inserted to take its place, such as at a door jam. This type of repair (which is a homeowner responsibility) saves the owner from having to replace the entire door unit.
Scheduled Painting
Painting is one of the critical maintenance items. We are scheduled to paint every seven years. We are a little past that milestone.  The current color scheme is nearly 16 years old and looks dated compared to some of the newer developments.
With that, we are proposing a new color scheme that is more aligned with current trends. The color selections were based on a collaborative effort between residents with design backgrounds and design consultants. To simplify the process and help with cost, there will be no variations.
After careful consideration of our brick variations and other design factors, the following was recommended:
Visit Similar Communities
To truly understand the value and impact of updating our colors please visit other nearby communities:
The Battery at Paces Ferry - 3521 Broughton Sq Atlanta GA 30339
Vintage Square - 3327 Vintage Circle SE, Smyrna, Cobb County, GA 30080
The Park at Paces - 2375 Paces Ferry Rd SE Smyrna Ga 30080
Roxboro Place (GATED)- 3475 Roxboro Rd NE UNIT 10, Atlanta, GA 30326
Community Paint Survey
Two homes, one located at 1456 Montclair Ct SE and one at 3012 Montclair Circle are partially painted in the new approved colors to provide visible samples and may be viewed by homeowners to assist in their color decision. A survey will follow with pricing information and the following two options:
A) Keep old color scheme
B) Update to recommended colors.
This information will be communicated through email and letter.
Decks 
Decks are a homeowner responsibility.
Private Deck Staining $425.00 each includes:
Pressure wash all private wooden decks and patio partition fencing using bleach and Simple Green Detergent
to remove all mold and mildew before stain application.
Re-nail all loose boards as needed.
Remove and replace all damaged or undesirable wood. (Priced separately as needed)
Protect all building surfaces, concrete and landscaping material from misplaced stain.
Apply one coat (sprayed and back-rolled) of Sherwin Williams SuperDeck Stain to all exterior surfaces of each
private deck and patio partition throughout the community.
Clean up and remove all job related debris.
Highlights
PVC will replace rotted wood. PVC looks like wood but will not rot over time.

Residents will need to remove window screens from inside so contractors can replace wood rot  and paint frames.

Contractor may work Monday through Friday from 7:30 am until 6:00pm but shall limit noise before 8:00am and after 5:30pm

Items to be painted or stained shall include all previously painted or stained surfaces.

Warranty: All labor and materials are guaranteed by Contractor for a period of five years against flaking, peeling or stain bleeding.

Screened in areas will not be touched.